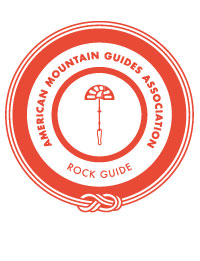 The American Mountain Guide Association has built a curriculum, staffing, and reputation to support the highest level of rock climbing and guiding certification available in the US. In late October of this year I completed the final exam in the
AMGA Rock Guide
program, earning the official label of "Certified Rock Guide".
Indulge me as I tell a bit of my story. The very beginning can be traced to 2000 when I took my first formal rock climbing class. In that class, a semester long introductory course at the University of Maine, I learned foundational skills as well as had exposure to professional and trained rock guides. One of the instructors of that course, Jon Tierney, had recently developed the curriculum for what was called the AMGA "Top Rope Site Manager Course".
I finished school while climbing more and more. I traveled the west, climbing more and more. I busted myself up skiing in 2002, and climbed to recover. I moved to Bishop to climb more and more. I got a job teaching climbing in the Bay Area of California.
I took the above mentioned "Top Rope Site Manager Course" in 2005 in the Eastern Sierra. In my first lesson in the small world dynamics of the guide community, that course was taught by none other than Jon Tierney of Maine. I worked and climbed more and more. In 2007 I took yet another AMGA course, the "Rock Instructor Course". Around that time I got a job with Sierra Mountain Guides in Bishop. More and more guiding work materialized, making this guiding gig more and more viable. That course in 2007 marked the beginning of a concerted effort to dive into the guiding career. I also started parallel training as an Alpine and Ski Guide. I have taken at least one AMGA course or exam every year since 2007. My training has peaked this year with four extensive and expensive sessions of professional development. Hopefully each of the next two years I will be able to report on full certification in Alpine and Ski guiding. What a journey so far!
Now, this journey has been more than a string of courses and exams. Built into the progression is required field experience between the formal programs. I have been fortunate to collect that experience while earning a living as a full-time guide. My field experience has been mentored by employers
Neil Satterfield and Howie Schwartz
, with crucial input from co-worker and certified guide
Viren Perumal
. Early on, employer
Richard Bothwell
supervised my very first rock guiding and instructing efforts. All of these guys have held me to a high standard while letting me grow.
Also crucial to the effort have been the folks I have dragged around in the mountains. After all, "what would be a guide without someone to lead?" (Attributable to famous French guide Gaston Rebuffat) Far from "guinea pigs", paying guests came to me to achieve their own goals and objectives. Actual work experience is integral to the ongoing improvement of any professional. This is a good time to note that, relative to the entire pool of American climbing guides and instructors, very few are formally trained or certified. There are now just under 200 certified rock guides in the entire country. Also, on a few occasions, I enlisted the help of "mock clients". When circumstances left me short of work or appropriate practice opportunities I would contrive guiding challenges with the help of friends, the above mentioned mentors, as well as co-workers starting their own certification processes. You folks know who you are, and I appreciate your help greatly.
On the exam. Chad in the yellow helmet is in "guide mode" while Keith examines.
The actual final exam was six days of climbing in Red Rock near Las Vegas, NV. We climbed short hard routes, long easy routes, and long hard routes. The seven other candidates and I were tested with route-finding and rope-management challenges, entrusted with high-end risk management decisions, and even laughed once in a while. An examiner set the tone early by reminding us that "you wouldn't be here if you weren't ready."
While we were asked to "guide like you are used to", the pressure of an exam situation put a little more weight on these particular guiding assignments. Risk management, the awareness and mitigation of the likelihood and consequence of bad things happening, is the same whether guiding a beginner-for-pay or an examiner. The smaller things, though, seemed to carry a much greater import. It is popular to dismiss the stress associated with these exams as unrealistic. "Our actual guests aren't carrying notebooks around and checking their watches every few minutes." I would argue that that is not true, and that many of our guests, not to mention employers, hold us to an even higher standard. I might suggest an analogy to the stress a guide might feel "courting" a potential long term guest. We are expected to make all the same correct choices, but the consequences of mis-stepping loom much larger. When all was said and done, the training and experience, fitness and skill, stress-management and planning all paid off for the entire exam group. When final results were released almost three weeks later we had all passed!
Climbing in the mountains is a gear intensive endeavor. A guide deals with specialized movements, difficult weather conditions, and a reliance on equipment for safety. This gear is ever evolving, wears out with use and time, and expires in its capacity for safety. I have been very fortunate to receive help with the acquisition of gear for these programs. Most notably,
Evolv Performance Climbing Footwear
has been kind enough to provide me with climbing and approach shoes for a few years now, as well as involve me in their equipment testing program. Evolv shoes are very well constructed, comfortable, with performance tuned to your intended style. Pick a pair of Evolvs that fit well. You can even mix and match sizes to accommodate mismatched feet like mine. Choose a model of Evolvs that match your intended use, drop some
powder
in 'em periodically (key to the olfactory comfort of any technical footwear...) and you can't go wrong.
Shoes for all occasions.
In the end, and a bit cliche, this "individual" certification has been a cooperative endeavor. There are the above mentioned major categories: employers, mentors, clients, and sponsors. There has also been the more auxiliary, but no less important, support from family, friends, the AMGA, instructors and examiners and significant others. Once again, indulge me in a big "virtual" thank you to all.